The Golden Globe Awards is the first major red carpet event for the new year and the culmination of the awards season, too. Hence, all eyes are turned to the red carpet to see what everyone is wearing. Fashion experts also note that this red carpet event will also set the stage for red carpet looks and trends to watch out for in this new year.
This year's overall red carpet fashion for the Golden Globe Awards is somewhat of a disappointment, though. The stars that I expected to shine on the red carpet did not pull off. But I had a lot of fun picking out favorites, though. Do check them out below.
Favorite Hair
Zooey Deschanel's look at the 2014 Golden Globes might not be as popular but I still dig it. Loving the retro vibe of her look with the side swept, low bun that also comes with an equally adorable floral hair accessory. She is the picture of glam retro at the red carpet event and I love that she paired it with bold, red lips too.
...because it looks so lovely on the side!
Since I can't make up my mind and I love both hairstyles, I've also picked another favorite hair 'do - Amber Heard. This messy updo helps to break up her ultra feminine look with her navy blue, high-slit dress. The updo is also a perfect choice for Amber because it frames her beautiful face really well (I mean, isn't her face just a work of perfection?). Love that there is a lot of volume around the crown, too.
Margot Robbie is looking stunning at the Golden Globes red carpet this year. But it's not for her Gucci dress (although that is quite a stunner, too). It's her natural glow with this neutral based makeup. According to her makeup artist, Jenn Streicher, it was Margot who insisted on going for the au naturel look because she wanted something to complement her classic and sophisticated Gucci dress. The natural makeup look was definitely the prevailing trend at the red carpet this year!
Olivia Wilde also rocked a gorgeous makeup at the red carpet event, although I bet she ever needed any more help with that gorgeous face of hers. It could be that or just natural pregnancy glow. Whichever is the case, the choice of eyeshadow color helps to highlight her green eyes and it looked so natural against her skin tone.
Favorite Accessories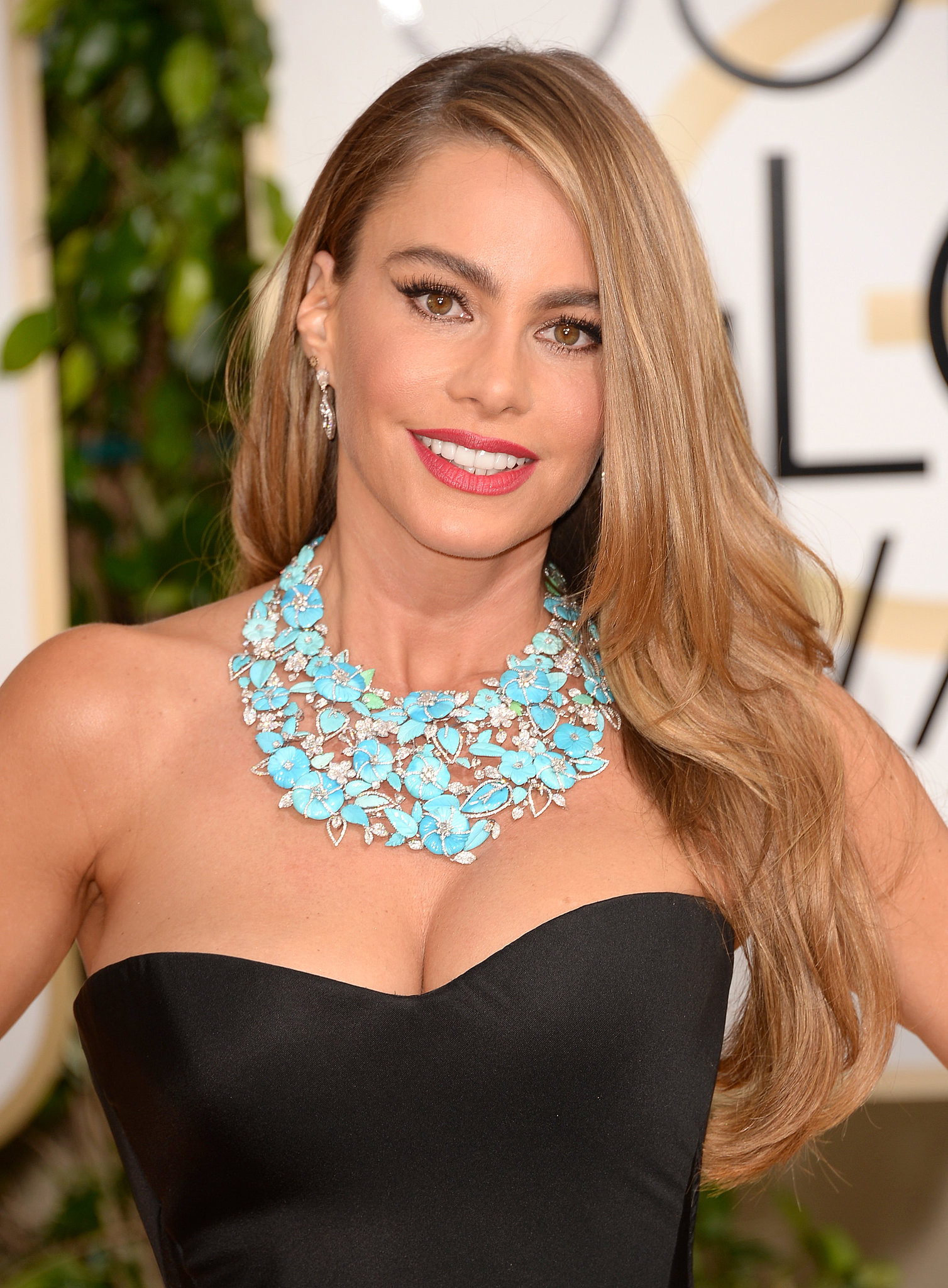 Sofia Vergara is always a red carpet favorite for sophisticated style that never fails to turn heads. This year, she not only rocks a gorgeous strapless dress and loose waves but also sparkled in some Loraine Schwartz jewels. Hence, she is my pick for having the best accessories. That turquoise statement necklace is a stunner all by itself!
Favorite Shoes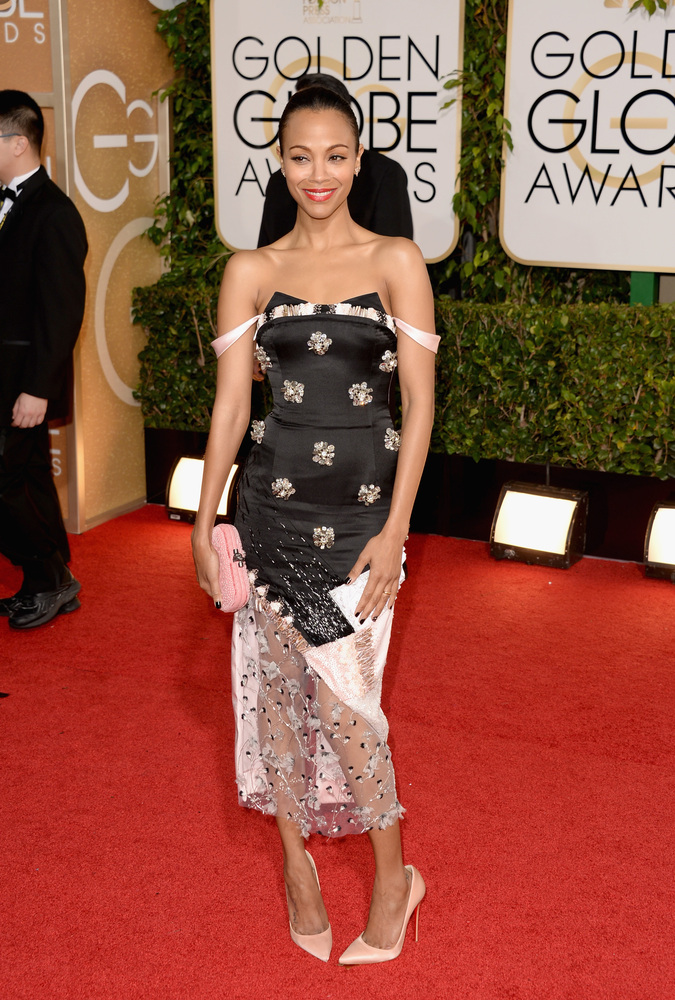 Zoe Saldana's Prabal Gurung dress was somewhat a disappointment for me. However, she redeemed herself with these stunning shoes!
Favorite Dress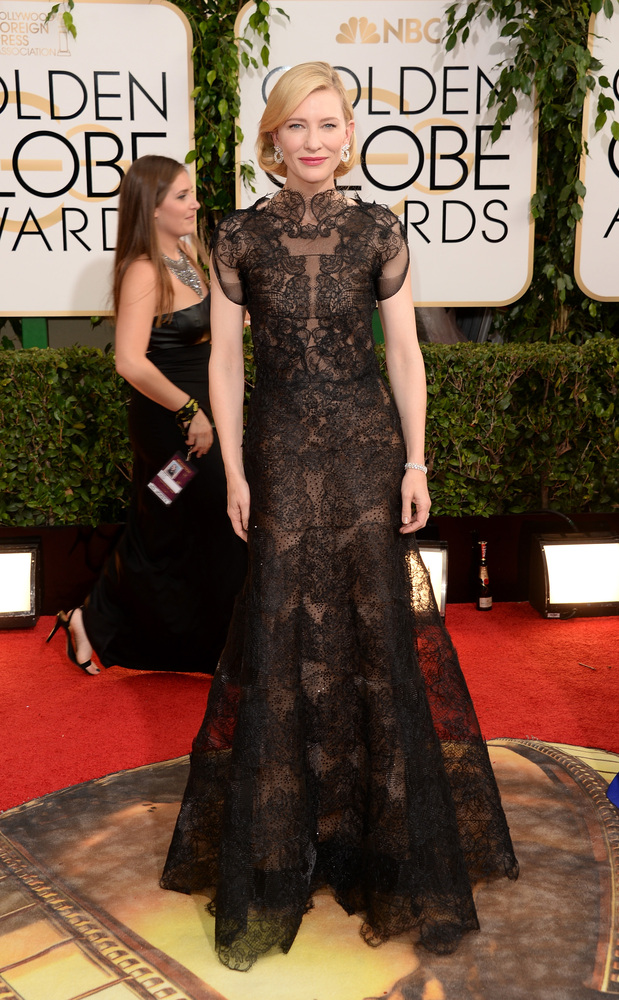 As the 2014 Golden Globes was happening in real-time and I was checking my Twitter feed, there was nothing else that popped up on the feed and they all were raving about the dress from Cate Blanchett. It's from Armani Prive. And I loved it on Cate - so regal, sophisticated, and age-appropriate.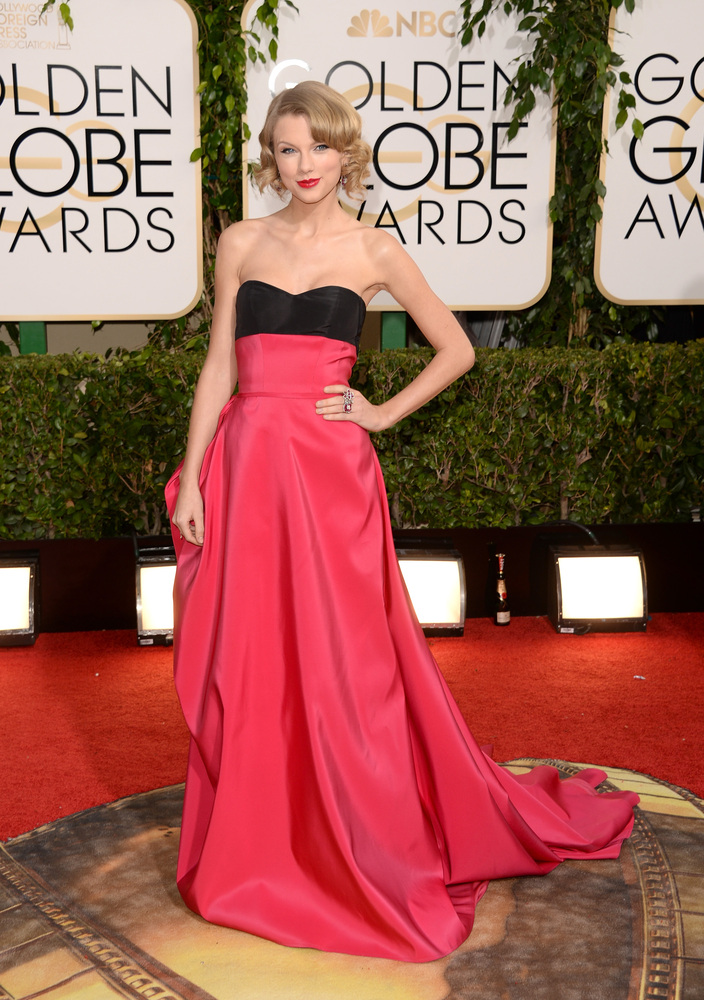 Another favorite of mine at the 2014 Golden Globes is from Taylor Swift. I, too, am quite surprised I picked her. The cut in this two-tone dress is breathtaking on her. And I also appreciate that her sweetheart neckline showed just the right amount of cleavage. And good call on Taylor to keep her accessories to a minimum as this dress is already quite a statement in itself.
Who was your best dressed at this year's Golden Globe Awards?