The holiday season is just around the bend. Thus, I thought about creating my own wishlist for the holidays as early as now to beat the holiday rush. And yes, that means I am eager to start my holiday shopping. Hopefully, the boyf gets to read this too so

he can help me fulfill my wishlist

, l

ol.
10. Candy bag. These things are just too cute. The more colorful they are, the better

.
9. Samsung Galaxy Note II. Just beca

use.
8. My first peplum dress. I don't currently have one but I am digging this trend so much, I am looking to finally get one. Seeing Lauren Cohan's gorgeous leather peplum during the Walking Dead Season 3 premiere made me fall in love

.
7. Pink + Yellow Converse. I've never been a sneakers girl, but I want to own one.

Getting myself as a gift, then.
6. Lace dress. Yes, as if I haven't

got enough in my closet already.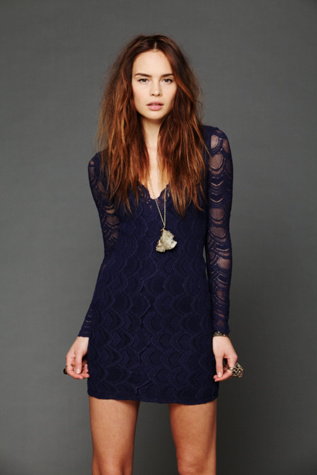 image: Free People
5. Uber cute bow ring from Posh Locket. To die for.
4. Peachy Rose Studs from Love Diva. I already have the pink one, but I am crushing on th

is, too.
3. Resistance bands in green or red. It's almost a year since I've had my gym membership and I plan on continuing that until next year. And these bands are

my new best friend.
2. New set of workout clothes. Who says you can't workout in style?
1. Floral/colorful blazer. I had been looking for the perfect blazer for some time now, but to no avail. Anything colorful and vibrant will do for me, such as th

is

...
What's on your holiday wishlist? Are you as eager as I am to kickstart the holiday shopping spree?